#10 CoronaVirus Quarantine Productive Activities At Home
|
The Novel Coronavirus has introduced us to the new world. In this article we'll discuss about Coronavirus Quarantine Productive Activities at home for next 21 days. A world which is at a distance from physical meetings, interactions but quiet close and available to the online world. Yes, the digital world is the new normal.
The educational institutes have switched to e-learning, bitcoin has become the trading medium, and people are staying more at home to prevent the spread of the Coronavirus.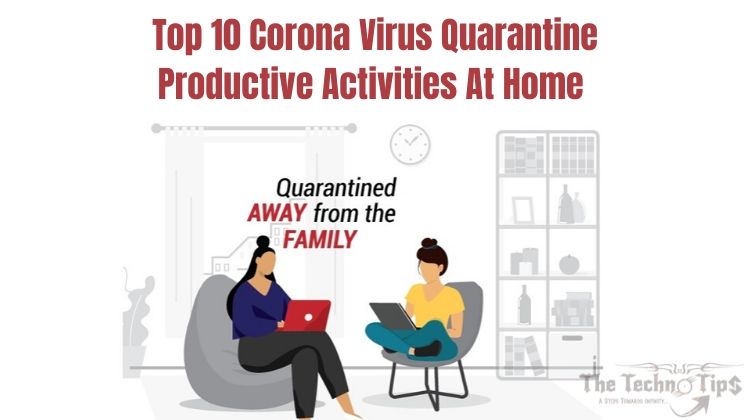 But the longer staying at home is giving us free time to unwind from Coronavirus Quarantine Productive Activities at home and chill. The good side is that now we can take out time for the things which were pending for long. The examples can be Productive Activities like arranging your closet, reading books, playing indoor games and watching Netflix. There are several things you can do to make your Coronavirus Quarantine Productive Activities. If you think what these activities can be, take a look at the activities below:
Read Books
While running for our 9 to 5 jobs and giving time to our side hustles, we hardly get the leisure hours to read our favorite books and enjoy. Now, when the quarantine is here, you can spare this time to read books and learn from it.
Reading is the best exercise for your brain; it's not only effective in gaining information but also the best entertainment resource and a hobby to make your free time productive. Scribe – the world's largest digital library has given us 30 days free trial for the readers so you can also take their sources to read your favorite books.
Don't Miss the Gym
I know you must have been missing the gym workout as it's not possible to attend the gym in the quarantine period. But how about making your home a workout space? Yes, you can tune into the fitness channels on Youtube, Instagram and continue your gym training.
During this time, when you'll be at home and eating more, you also need to burn out your calories by turning your home into a gym. The show must go on!
Mow your Garden
In our busy lives, the most neglected activity is gardening. We don't get time to mow the grass, fix our pots, water the plants and sow the seeds. And during this outbreak, it's most recommended to spend time with nature so you can overcome the stress and anxiety level.
Dedicate this time to your plants, clean your garden and make it more beautiful and pleasing. After making it beautiful, spend more time with your family in the garden and notice the positive changes in your mind.
Declutter Thing From Your Home
Decluttering is the activity which you kept for weekends so you can make this all together with your family. But thanks to quarantine, your every day is a weekend. So, the fourth thing you can do is to spend your time cleaning your home.
Start small from your bedroom, arrange the mess, trash the things which you no longer, pay special attention to the doorknobs, cabinets and the surfaces where there are more chances of getting the bacteria. In this activity, keep your kids with them so they can also help you out and learn the importance of cleaning.
Invest in Real Estate Business
If you're looking to invest in properties that can be valuable in the future, take this time for it. Search for the condos for sale Toronto, lofts, and single-family homes.
It might be possible that the real estate market has declined because of the outbreak. Make the most of this opportunity, talk to your real estate agent and invest in properties which can be beneficial for you in the future.
Learn Online Courses
Humanity is coming out in this time of crisis. Small and big brands have announced to give access to unlimited learning, so people don't feel bored at home.
So, whatever is your favorite skill, pick the courses in that category and learn the new tactics to polish your skills. When life gets back to normal, these skills will help you to grow in your job.
Update Your Resume
You might be looking long for free time to start searching for jobs and update your resume. Know that, this is the best time to supercharge your CV and tailor it to your next dream job. You can also update your LinkedIn profile and increase your networking to benefit your career growth.
Binge-Watch Netflix
You must have a list of pending series which you have planned to watch over weekends. Take out the list and make it true by watching your favorite Netflix series.
Manage Your Digital Space
The people you follow on your social media reflect your thoughts, and you gradually become like them. That's why it's important to follow the right influencers who spread positivity and keep you motivated.
So, utilize this time to clean your digital space from negativity and enjoy clean and positive posts throughout your life.
Work On Your Passion
This free time is the best to innovate and start working on your passion. So, take the first step and start working on it.
Also Read: The Best Budget Gaming Laptops 2019