Who does not want to boost their sales and increase their revenue multifold? If you thought the email marketing is dead or not as effective as it used to be, you cannot be more wrong. Don't Worry, In This Article We Have Covered Aweber vs Mailchimp Best and Constant Contact.
According to statistics shared by Oberlo, Average expected ROI is $42 for every $1 you spend on email marketing. Other Digital Marketing channels comes with their own benefits, there is no denying the advantages that email marketing brings to your business.
So when you are considering to do email marketing, the first question that naturally pops into your mind is; what email marketing is best for you? Well, the answer is not as simple as you might think.
It depends on several factors like your budget, business requirements, and personal preferences. Three of the most popular email marketing software right now are Mailchimp, Aweber and Constant Contact. To Help You Make A Smarter Choice.
Aweber VS Mailchimp and Mailchimp VS Constant Contact.
Let's Get Started:
Aweber VS Mailchimp
Mailchimp

:
Mailchimp considered as one of the pioneers and the biggest email marketing tools in the digital world. One of the reasons that it becomes so popular was because of its free plan.

Unlike the majority of other digital tools, Mailchimp's free account is a great option for digital marketers who don't have the budget to invest in a marketing tool.
Aweber

:
Aweber developed for a wide range of businesses and individuals; small businesses, content creators, podcasters, entrepreneurs and even nonprofits use the tool for their email marketing campaigns.

One of its key features is the ability to send unlimited emails, no conditions applied!
Aweber VS Mailchimp: Comparison Of Features
Membership plans:

While Mailchimp offers a free account without any limits, Aweber lets users enjoy a 30-days free trial period. After that users have to pay $19/month to continue using it.
Design:

When it comes to design templates, Aweber has more templates when compared to Mailchimp. But Mailchimp gives its users more room to experiment and personalize the templates as they like.
A/B testing:

Both Mailchimp and Aweber allow their users to conduct A/B testing easily. In contrast to Mailchimp, Aweber offers a more extensive range of variations for the testing emails.
Ease of use:

When it comes to ease of use, Mailchimp wins here. While Aweber has all the features that Mailchimp offers, it is much more time-consuming, which makes it less user-friendly than Mailchimp.

A task that takes a moment in Mailchimp might take 5 to 10 minutes in Aweber, which can be a bummer as time is money.
Mailchimp VS Constant Contact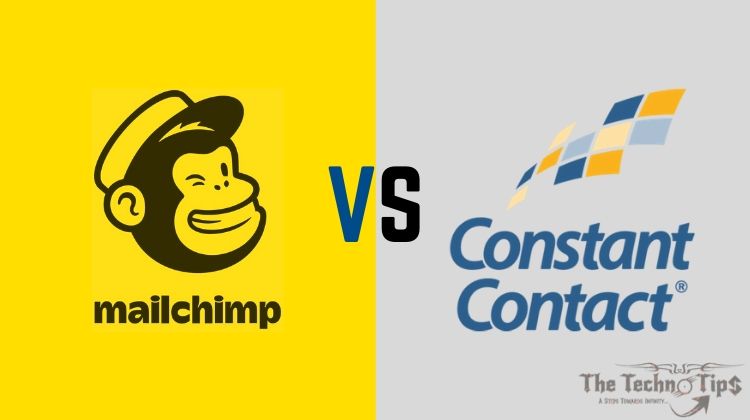 Automation:

Mailchimp provides its users with a wide range of automation features. This allows users to send follow-up emails automatically and other product recommendations.
A/B testing:

A/B testing is an important feature to see which email variation did better. Mailchimp offers three variations in its free plan. But Constant Contact does not have this feature. You have to do everything manually.
Design:

Constant Contact offers a lot more design templates than Mailchimp. While Mailchimp's templates are limited, they offer a great deal of flexibility for customising the template. Constant Contact is rigid in this case.
Tracking:

Tracking again is a crucial feature to know if your email marketing campaign was a hit or a miss. Compared to Constant Contact, Mailchimp offers more tracking and reporting features to its users-A .
Conclusion:
At the end of the day, it all boils down to your business and industry. What might work perfectly for one business might be a total fail for another. We do hope the comparisons of Aweber vs Mailchimp and Mailchimp vs Constant Contact helped you in deciding. Cheers.
EcommerceChamp is a platform from where anyone can get helpful information about all kind of related information.